Built in USA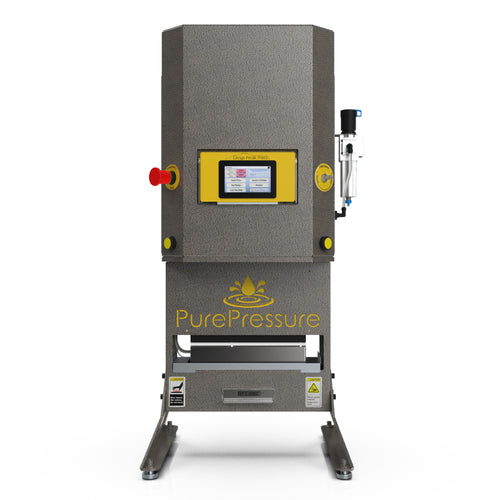 Built in USA
Buy with Confidence
We offer professional end user support and free small item returns.
Have Peace of Mind
PurePressure's customer satisfaction guarantee means you don't have to worry.
The best rosin press on the planet
8 tons of force
The Longs Peak features an 8 ton pneumatic, oil-less & maintenance-free cylinder for maximum throughput and control.
Superior 10" x 3" heat plates
Our premium 6061 aluminum heat plate assemblies offer independent thermocouples, 0°F - 300°F evenly distributed heat, and temperature accuracy to 1 degree.
Pressware™ technology
Each Longs Peak comes with our intuitive Pressware™ technology, which offers a full color LCD touch screen with custom software for unparalleled consistency and control including the ability to save up to 29 pre-set recipes.
True commercial scale rosin pressing
Process up to 7 lb of flower per day, or 12+ lb of sift or hash per day. The Longs Peak can press 80 or more grams of dry sift or hash at one time, or 40+ grams of flower.
Technical specifications
Longs Peak technical specifications:
Heat plates measure 10" x 3", maximum temperature of 300°F
Total force output: 8 tons, or 15,300 lbf @ 140 PSI
Weighs 130 lb
Air compressor requirements: 2.7 CFM and over 150 maximum PSI for optimal operation
Utilizes 5 - 140 PSI compressed air input
Frame and enclosure is made of A36 steel
Available in both 115-230v electrical versions (operating voltages are set at the factory, not by the user, so please contact us for more information)
115v version electrical information: 6 amps peak draw, 690 watts, 50/60 Hz, 5-15P plug, no dedicated circuit required
230v version electrical information: 3 amps peak draw, 690 watts, 50/60 Hz, 6-15P plug, no dedicated circuit required
Warranty information
Included Warranty
• Lifetime end-user support.
• 2 year limited warranty against manufacturing defects for structural components (frame, truss, and support legs) and pneumatic cylinder.
• 1 year limited warranty against manufacturing defects for the entire press including electronic and pneumatic components.
PurePressure's Peace of Mind Warranty is also available for only $999 and completely covers your Longs Peak rosin press for 5 years. Simply select the extended warranty option when checking out or ask a PurePressure sales representative to add it to your order.
The extended warranty can be bought up to 90 days after purchase.
More information
Each Longs Peak rosin press includes two sets of orientation legs, so you can operate the press vertically or horizontally. Additionally, each and every rosin press we make is proudly made by hand in Denver, Colorado with top quality components at our factory.
Firmware updates are easy with our custom PurePressure software application that works for Mac and Windows - if you ever have an issue, just plug it in to automatically run diagnostics. You can also unlock administrative features for your press with our powerful Pressware technology!
Located in Canada? Let us help you figure out what electrical requirements your situation requires so we can help you come up with the best solution.